STATE AND HONORARY STATE DEGREES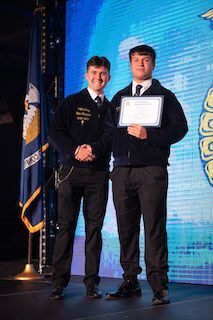 FFA members can earn degrees as they progress through the phases of their leadership, academic, and career skills development. State FFA Associations recognize their top members with the State FFA Degree.
The State FFA Degree is given to Louisiana's top FFA members. To earn the State FFA Degree, members must meet the requirements listed in the Official FFA Manual.
Louisiana FFA relies on the support of exceptional teachers, individuals, and organizations to provide life-changing experiences for its members. The Honorary State FFA Degree is awarded to people who have rendered outstanding service to Louisiana FFA and agriculture both in and out of the classroom. Requirements are outlined in the Louisiana FFA Constitution.