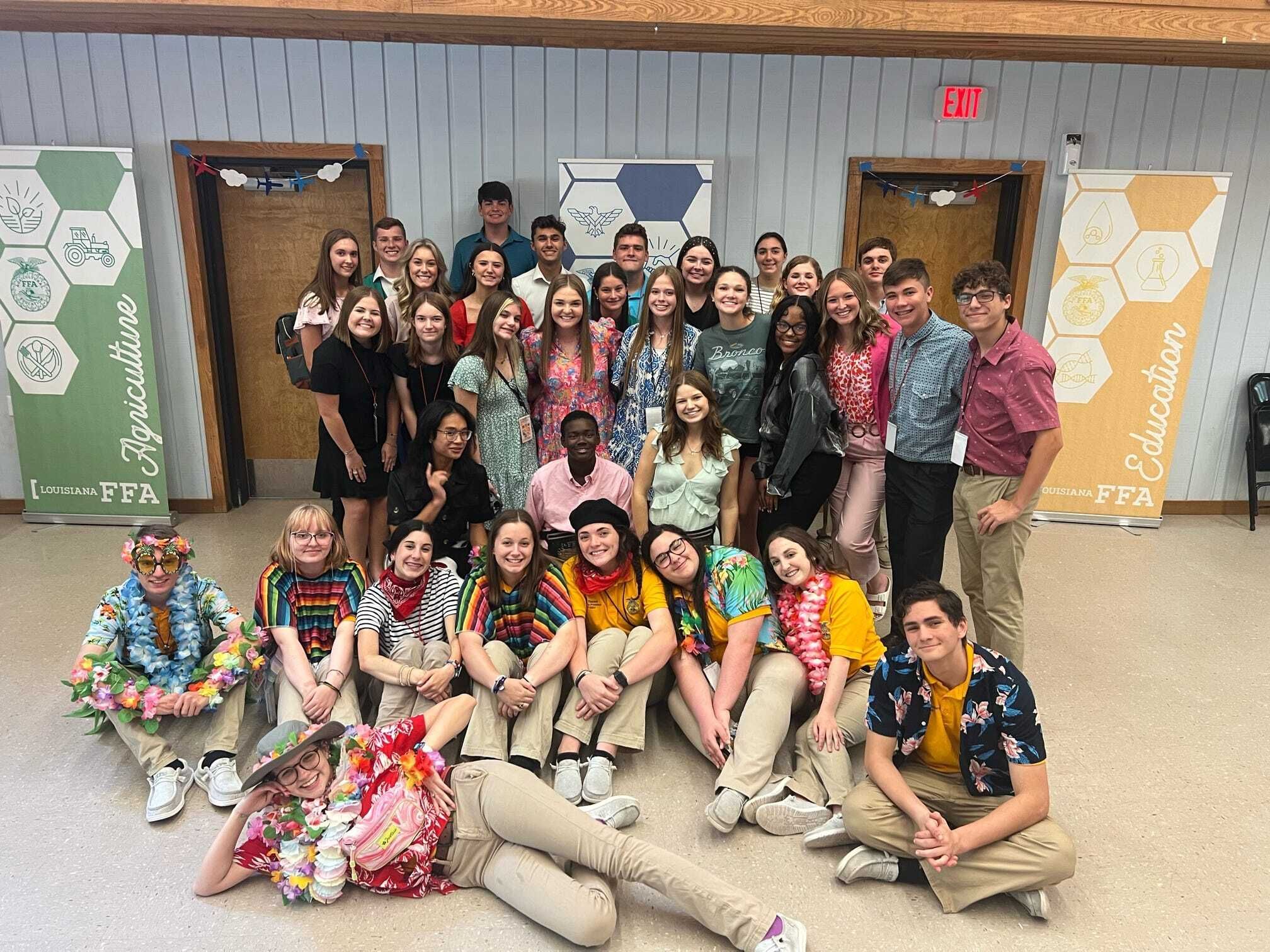 POLLOCK, La. (Saturday, August 5, 2023) – For its entire history, FFA has been a student-led organization. That tradition continued during the Area Officer Training (AOT) held at Camp Grant Walker this weekend. The Louisiana FFA State Officer team conducted four training workshops for 31 Area Officers covering topics on leadership, team dynamics, agricultural advocacy, and facilitation skills. The Area Officers serve on teams representing each of Louisiana FFA's four areas in north, central, southwest, and southeast Louisiana. They are responsible for engaging FFA members in their areas and promoting agricultural skills and leadership development.
State FFA Parliamentarian, Jillian Lantz from Jennings, was one of the conference facilitators. She said, "AOT is extremely important because we need our next generation of leaders and agriculturists to be skilled in spreading the message of agriculture and growing ag education." The State Officer team was able to interact in small group and one-on-one settings with the Area Officers to provide training and mentoring. "My most rewarding experience this weekend was seeing personal growth in our Area Officers," said Lantz. "Many of them were shy and reserved when they arrived but found confidence in their leadership abilities by the end of the conference."
Bob Bourgeois, Area IV Vice President from Thibodaux, found AOT to be highly valuable. He said, "I have taken away many skills that I can use to inspire FFA members across my entire area. This conference taught me how to facilitate workshops and how to effectively communicate my point to members and stakeholders."
In the fall, each Area Officer team will host a conference for their respective members. They will also conduct FFA chapter and agricultural industry visits with State Officers and serve as state leadership delegates at the State FFA Convention next summer.