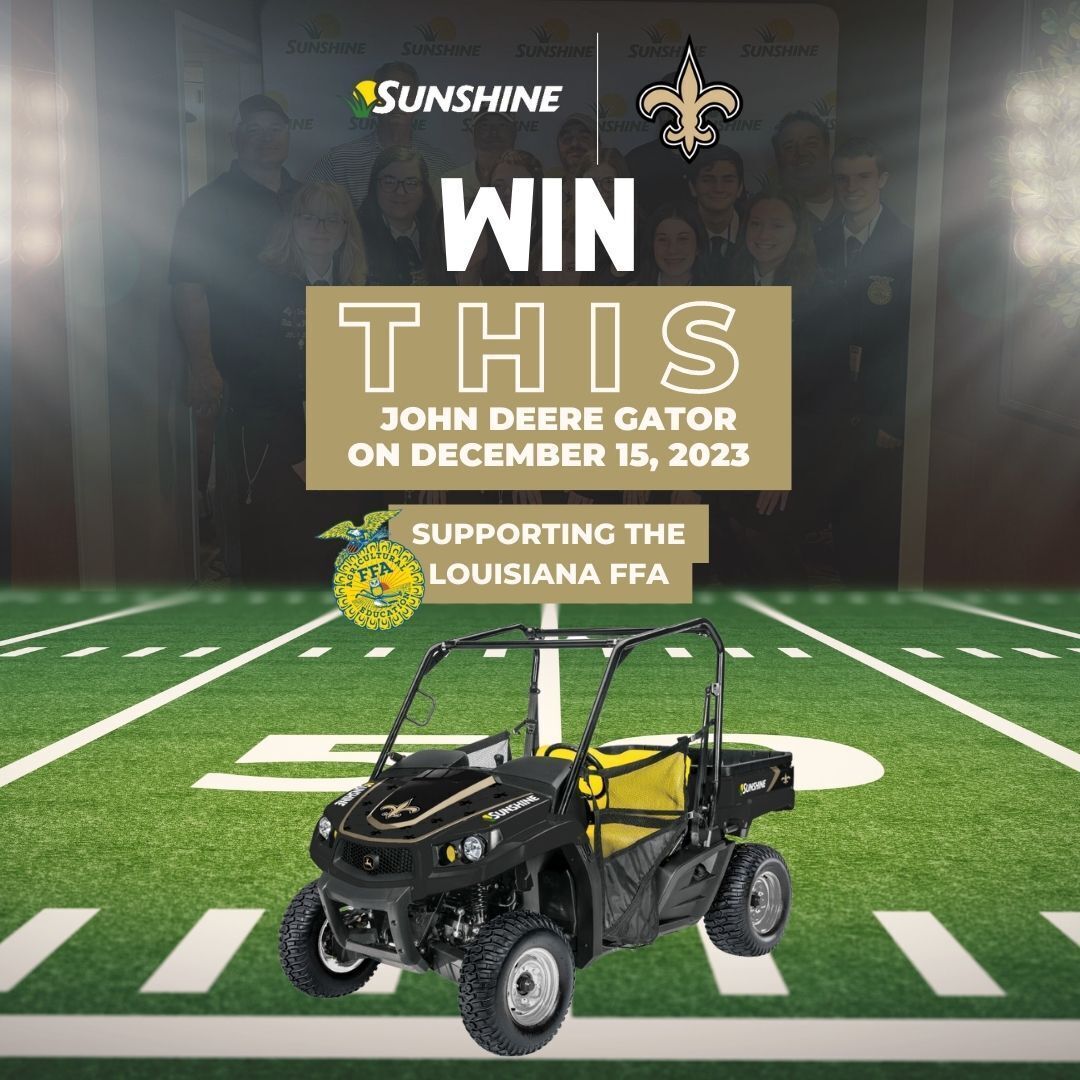 New Orleans, LA – The Louisiana FFA is thrilled to announce an exciting raffle opportunity that is sure to get fans of agriculture and football alike on the edge of their seats. This unique fundraiser features a chance to win a one-of-a-kind New Orleans Saints XUV560E John Deere Gator, generously presented by Sunshine Quality Solutions.
Tickets for this extraordinary raffle are on sale now, and the winner will be drawn at the Covington Sunshine Dealership on December 15th, 2023. With each ticket priced at just $15, anyone can participate in this incredible opportunity to own a piece of Louisiana sports history while supporting the Louisiana FFA and its mission.
To purchase your tickets, visit laffa.betterworld.org/giveaways/SaintsGator or simply text "FFA" to (855) 648-7213.
Rob Richter, CEO of Sunshine Quality Solutions, expressed his pride in supporting the Louisiana FFA, stating, "Sunshine is proud to support the work the Louisiana FFA is doing to cultivate a better future for all by empowering young people to be leaders in agriculture and their communities. Many of our employees and customers were proud members of FFA growing up, and Sunshine wants to ensure we're providing opportunities for our youth to benefit from an education involving agriculture. Seeing our youth wear the iconic FFA blue jackets is rewarding, knowing they're investing in their future."
Cade LeJeune, Executive Secretary for the Louisiana FFA, emphasized the critical role the organization plays in preparing future agricultural leaders, saying, "Louisiana FFA is the only organization in our state that focuses solely on preparing students to be the next leaders in agriculture. Agriculture is the world's most important industry. It provides the food and fiber necessary for life in the modern world, and FFA strives to provide instruction and training in 21st-century agriculture technology and skills. We are thankful for Sunshine Quality Solutions and the New Orleans Saints' investments in our program because those investments support nearly 13,000 Louisiana FFA members across the state. These members are the future of Louisiana."
Proceeds from the raffle will directly support the Louisiana FFA, a student-led organization for young men and women enrolled in agricultural education courses in middle and high schools throughout the state of Louisiana.
Please note that the winner will be responsible for covering any applicable taxes for the vehicle before delivery or pick-up can be scheduled from Sunshine Quality Solutions. To enter, participants must be 18 years of age or older.
Don't miss your chance to be part of this exciting opportunity to support the Louisiana FFA and potentially drive away in a New Orleans Saints XUV560E John Deere Gator like no other. Get your tickets now and be part of this incredible journey!
For more information about the Louisiana FFA and its initiatives, please visit www.laffa.org.
###
About Louisiana FFA:
The Louisiana FFA is a dynamic youth organization that prepares students for premier leadership, personal growth, and career success through agricultural education. FFA provides opportunities for students to develop their potential for premier leadership, personal growth, and career success through agricultural education. For more information, please visit www.laffa.org.
About Sunshine Quality Solutions:
Sunshine Quality Solutions is a leading provider of agricultural equipment, technology, and solutions. Committed to serving the agricultural community, Sunshine Quality Solutions offers a wide range of products and services designed to enhance agricultural productivity and sustainability. For more information, please visit www.sunequip.com.