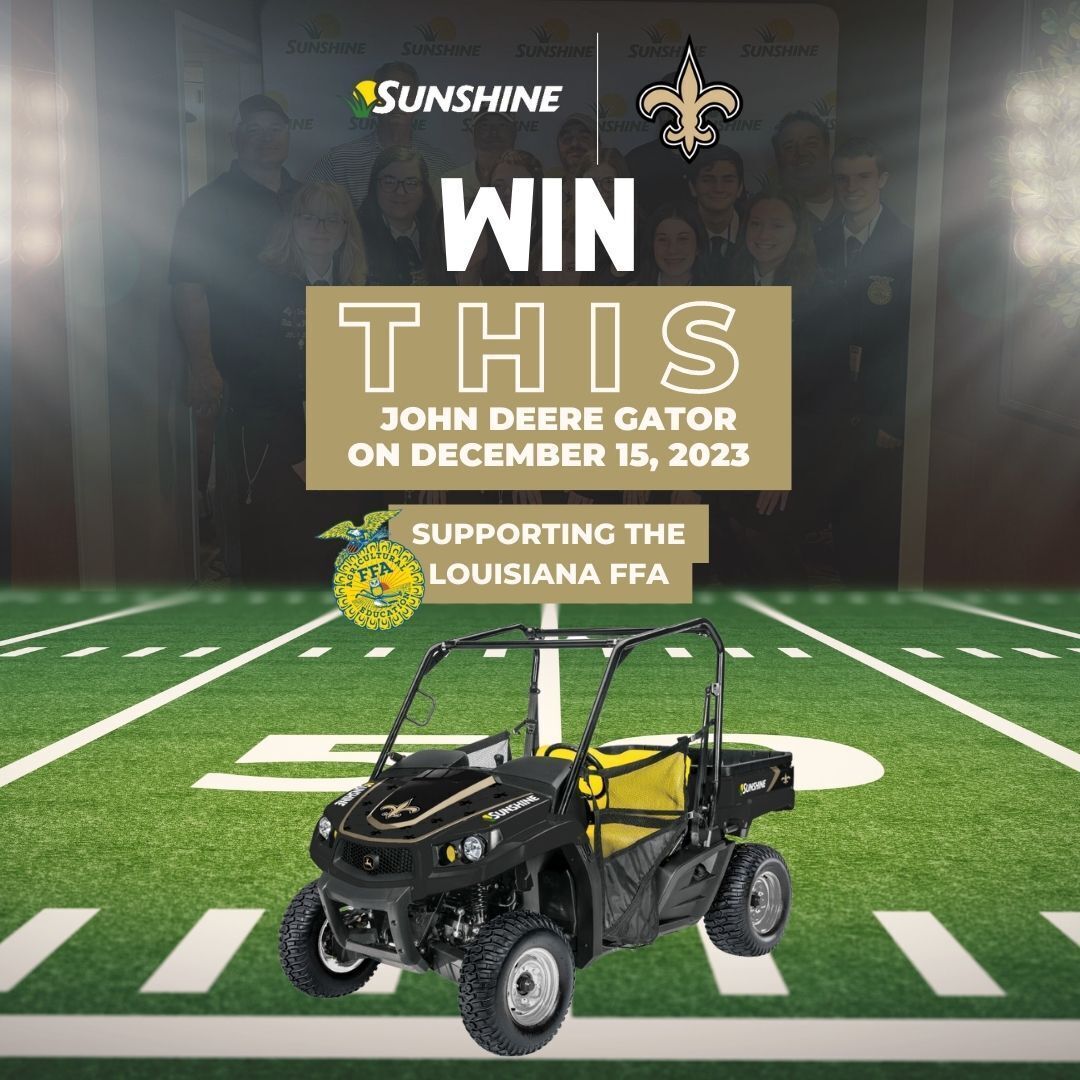 New Orleans, LA – The excitement is building as the Louisiana FFA proudly presents a raffle opportunity that's capturing the hearts of agriculture and football enthusiasts alike. With just one month left until the draw date on December 15th, 2023, this unique fundraiser offers a chance to own a piece of Louisiana sports history – a one-of-a-kind New Orleans Saints XUV560E John Deere Gator, generously presented by Sunshine Quality Solutions.
Raffle tickets for this extraordinary opportunity are available for purchase now at just $15 each. Supporters have until December 15th to participate and stand a chance to win this remarkable vehicle. To secure your tickets and be part of this incredible initiative, visit laffa.betterworld.org/giveaways/SaintsGator or simply text "FFA" to (855) 648-7213.
Rob Richter, CEO of Sunshine Quality Solutions, expressed his pride in supporting the Louisiana FFA: "Sunshine is dedicated to nurturing the future of our communities by empowering young people to be leaders in agriculture. We believe in the potential of these students, and our support aims to provide them with the opportunities they need to thrive."
Cade LeJeune, Executive Secretary for the Louisiana FFA, highlighted the pivotal role the organization plays in shaping future agricultural leaders: "Louisiana FFA is committed to equipping students with the knowledge and skills necessary for success in the modern agricultural landscape. Our partnership with Sunshine Quality Solutions and the New Orleans Saints underscores their belief in our mission and the potential of our 13,000 FFA members across Louisiana."
Funds raised from the raffle will directly benefit the Louisiana FFA, supporting educational initiatives, scholarships, and leadership programs for young men and women enrolled in agricultural education courses in middle and high schools throughout the state.
Please note that the winner will be responsible for applicable taxes on the vehicle before delivery or pick-up from Sunshine Quality Solutions. Participants must be 18 years of age or older to enter the raffle.
Don't miss this opportunity to be part of an extraordinary cause and potentially drive away in a New Orleans Saints XUV560E John Deere Gator like no other. Purchase your tickets now and contribute to the future of agriculture in Louisiana.